Millwood Bengal Females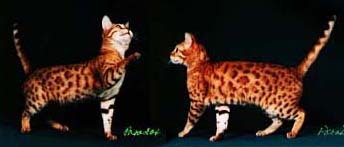 Grand Champion Millwood French Lace: Lacy was the first Millwood SBT Bengal with both rosettes and a whited tummy. At ten years old, she was still the same extreme whited and producing beautiful kittens. She has regularly produced top Bengals now found in many pedigrees, CH Millwood Italian Filigree, SGC M. Ischeron of Dreamland and Millwood Butter Brickle [Correction: Millwood French lace was born 4/24/1996 while Millwood Midas Touch was born 3/15/1994 making him an earlier SBT Bengal]
Here is her tummy shot: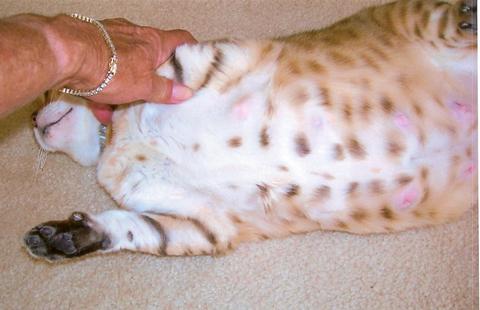 Kitten Pictures: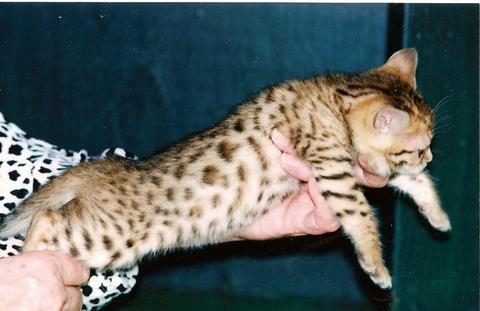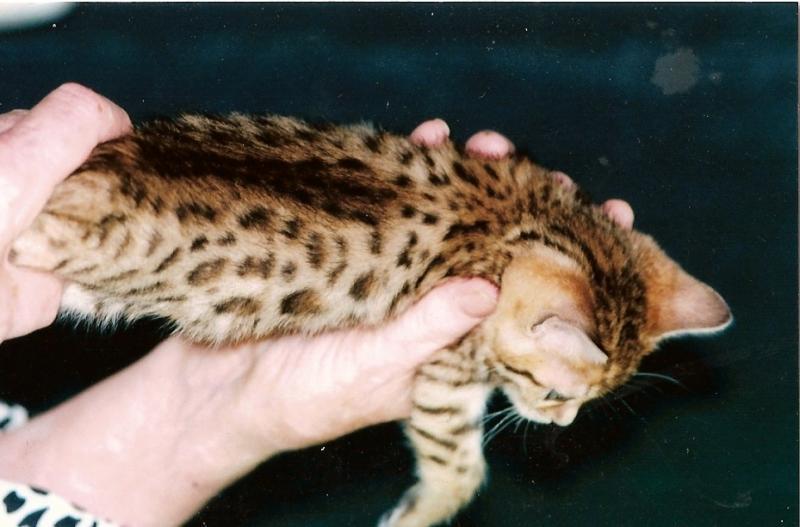 ---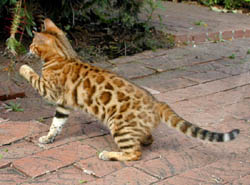 Millwood Xcite: Rosettes on light background. Photo at 5 months (b. 2002). Xcite is the dam of SGC Millwood Megabyte, Millwood Whiskey Fizz, Millwood Trilobyte and her newest daughter, Millwood Love Byte.
Sire: CH Millwood Candlewax Art
Dam: Millwood Epitimiss
---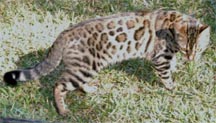 Millwood Whiskey Fizz... SBT
Black outlined rosettes on light background.
Sire: GRC Starbengal Damon
Dam: Millwood Xcite
---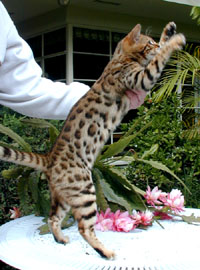 Millwood Razz ---SBT
Sharp contrast on clear coat. She is sister of Jazz Beat. b. 2002
Sire: CH Millwood Brickle
Dam: Millwood Highlight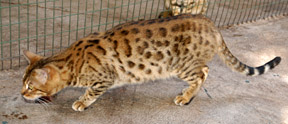 ---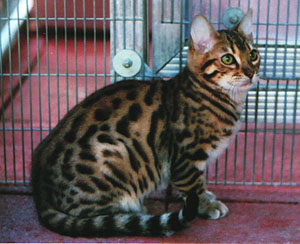 Millwood Laptop ------SBT
---rosetted with the softest and most luxurient of pelts. b. 2001
Sire: Millwood Highbrow
Dam: Millwood Crystal Etching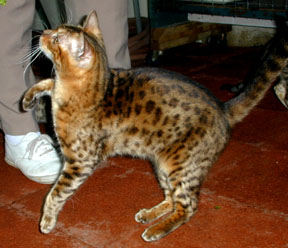 ---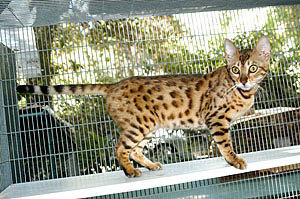 Millwood Trilobyte... SBT dob: 3/31/05
Trilobyte has been bred to Millwood Jazz Beat with her first kittens due in early September. She is a granddaughter of SGC Custom Made.
Sire: Millwood Gigabyte
Dam: Millwood French Made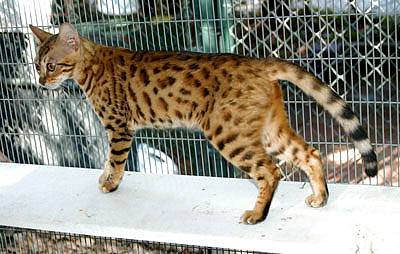 ---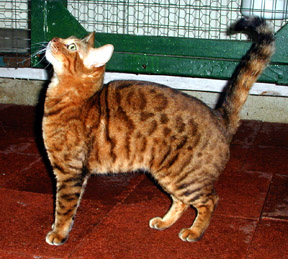 EEYAA Touche' of Brockenmoor ... SBT
Rich color and rosettes. Carries for lynx point. Good Mother.
Sire: CH Millwood Midas Touch
Dam: Brockenmoor Destiny of Eeyaa
---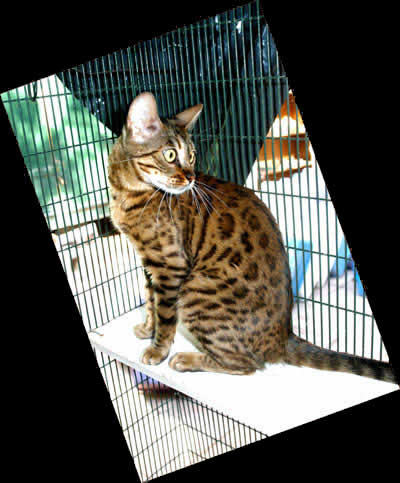 Millwood Sophie Duncan ... SBT dob: 6/28/04
---Sophie has been bred to SGC Millwood Megabyte, due the second week of August. She is an F4 but looks like an F1
Sire: Millwood Epitimee
Dam: Millwood Millwood Magic Artiste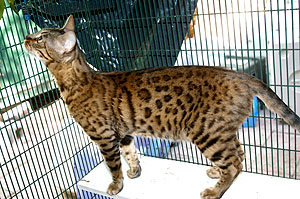 ---
FEMALES on lease to Millwood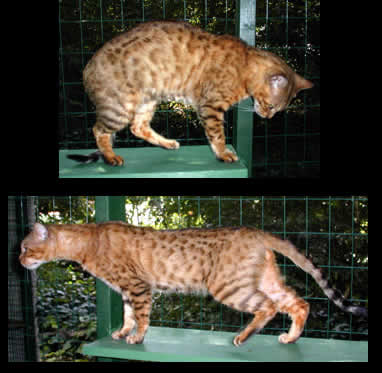 Brockenmoor Laila of Millwood... SBT
Laila consistently has large, mostly show quality kittens bred to our top Millwood studs.
Sire: CH Millwood Midas Touch
Dam: CH Brockenmoor Sweet Little Sheela
---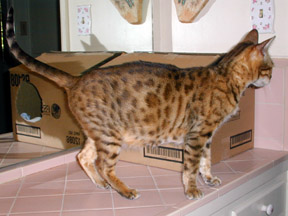 Millwood Leeloo of Alcat... SBT
This sweet mother cat has rosettes, large eyes and gorgeous kittens. She is on lease to Millwood from Karen Boudreau and will be bred to Megabyte next season.
Sire: CH Millwood Firelit Circle
Dam: Millwood Dazzle
---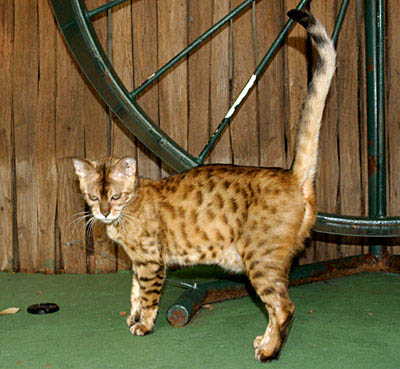 "Center"... SBT
This queen is temporarily at Millwood and is now nursing kittens sired by Focus and born in mid-June. Both kittens are males and very contrasted with rosettes. She has an amazingly heavey chin.
Sire:
Dam: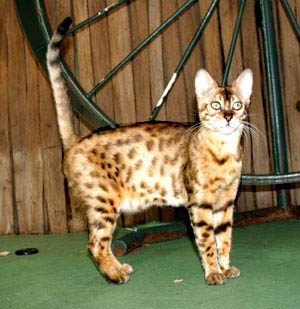 ---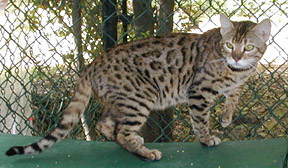 Amerikatzoceli Daltona... SBT
Lovely wild look to this young beauty.
Sire: Millwood Acting Cupid
Dam: Bosquebengals Daltina Marblest